Given that Arizona is "The Copper State" it should come as no surprise that most of my fountains are made with copper. People often ask if the copper we use comes from Arizona. Fact is, I'm usually not sure. The copper that is mined here is milled elsewhere, usually on the east coast. Sometimes the copper is even milled (and/or mined) outside of the US.
To me, copper is king when it comes to fountain material. It's accessible, relatively light, malleable, durable, and - unlike other fountain materials - develops a beautiful patina over time.
I use 16 oz. (roofing weight) copper that comes in 3'x10' sheets to make the flowers, pans, bases, etc. Most of the "plumbing" is made with heavy copper tubing, although sometimes for the very tall fountains I use rubber hoses.
In addition to the fountains listed in the right hand column which I usually have in stock, I have a few designs that we make only by special order (like Janet's Iris pictured below) make lots of one-of-a-kind custom fountains like the Penny Farthing also shown below.. Please keep in mind, however, that I am usually here by myself. That said, I just don't have the time for anything but serious inquiries and ask that you start the process with an email rather than a phone call.
I also ask that your inquiry includes as many specifics as possible - where you live, whether the sculpture will be indoors or outside, how much space you have, whether you have access to water and electricity, how much and what kind of sound you like, etc. It's also helpful if you can attach a couple of low resolution photos of the site if you can.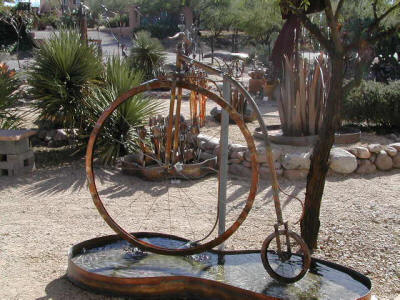 Custom made Penny Farthing Fountain
You can get an idea of the cost of custom work by looking around our site. All design fees are fully deductible from the purchase price.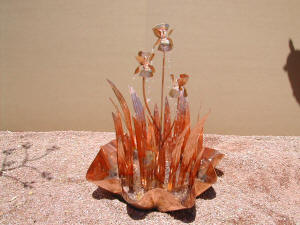 Janet's Iris
Email for details.
---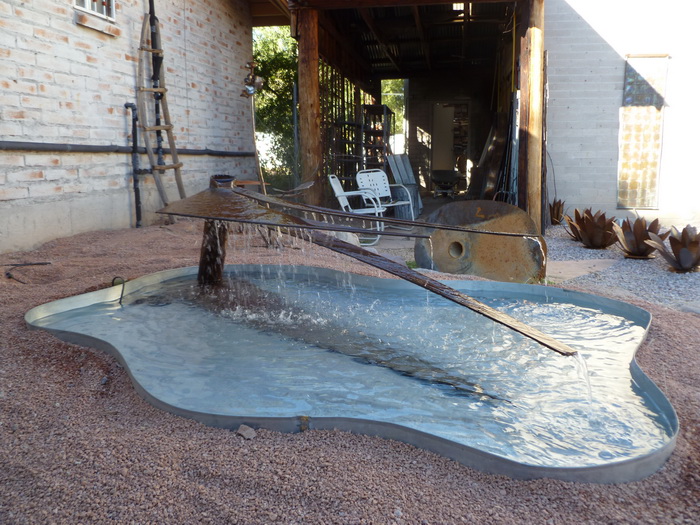 custom steel fountain
---