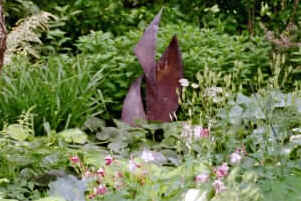 We LOVE to make sculptures! Unhampered by the practicalities of fountain design (where and how the water will flow, base size and construction, pump selection, testing, etc) we can be as creative as we'd like.
Basically, we make two kinds of sculptures. They either stand on the ground or hang on walls. Most are made in copper, however, we also work with steel, especially for large scale public art or commercial applications.
We also make custom designed and one of a kind sculptures, so email us if you have something in mind.....